Last updated on October 5th, 2023 at 10:27 pm
Christmas season is the time of year that harkens back to when people used to gather together in homes, families, and churches to celebrate the birth of Jesus Christ. I love hearing the Christmas carols I love, which is why I've compiled this list of the best Christian Christmas songs for your listening pleasure!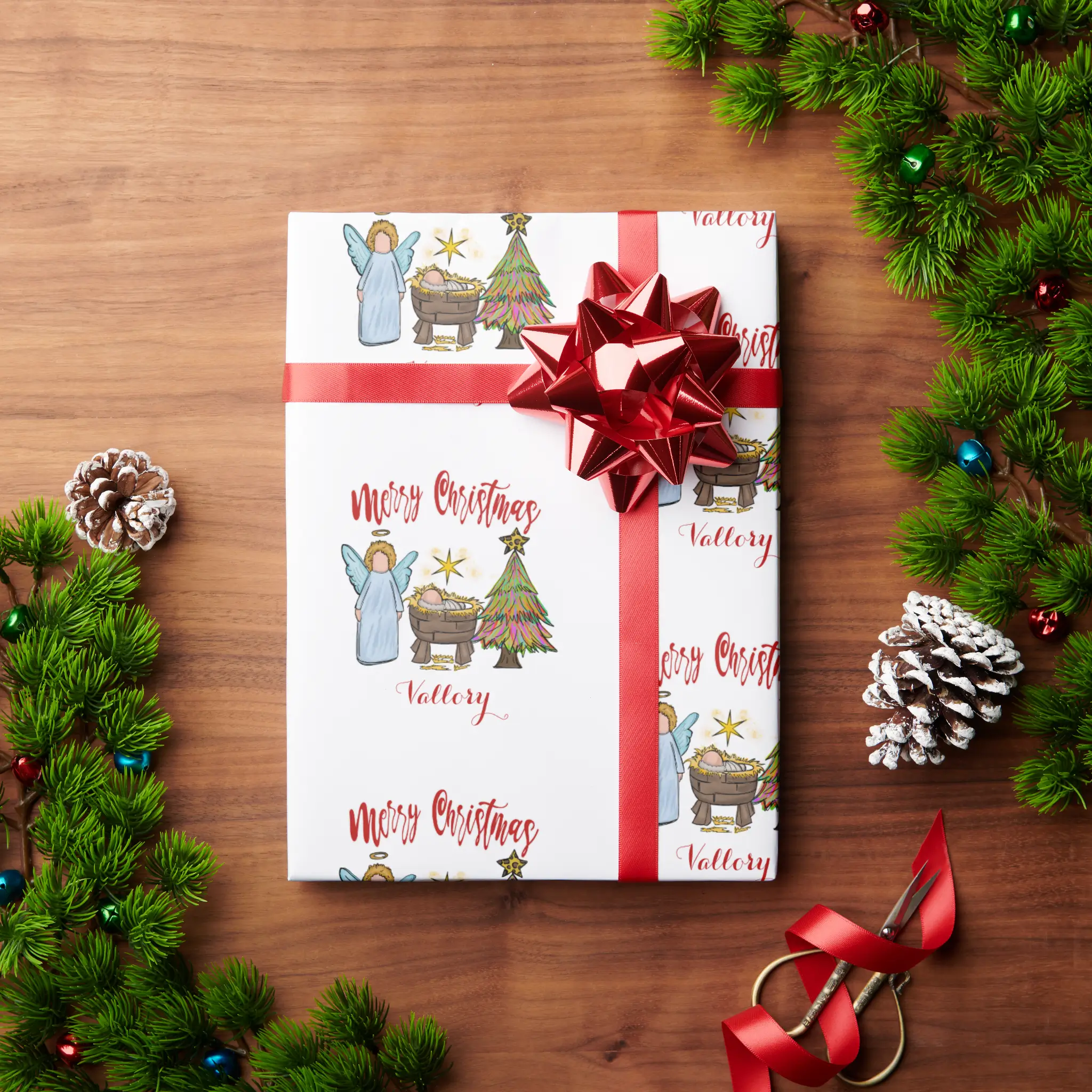 Looking for a stylish way to wrap your gifts for the holidays? Take a peek at our personalized Christmas wrapping paper! Several styles to choose from!
Some Of My Favorite Classic Christian Christmas Songs
Some of the best Christian Christmas songs are "Silent Night," "Away in a Manger," "O Come, All Ye Faithful," and "Joy to the World." Each of these songs has a special message that can help to remind us of the true meaning of Christmas.
"Silent Night" is a beautiful song that reminds us of the peacefulness of the night when baby Jesus was born. It's a perfect reminder of the hope and joy that we can feel during this special time of year.
Away in a Manger" is another lovely song that helps us to remember the humble beginnings of our Savior. It is a beautiful reminder of His love for us and how much He cares for us.
"O Come, All Ye Faithful" is an amazing song that brings to mind all of those who have gone before us and believed in Jesus. It's a powerful reminder of the faithfulness of God and His love for each one of us.
"Joy to the World" is such a joyful song! It reminds us that we have much to be thankful for, even during this busy time of year. This song always brings a smile to my face and fills my heart with happiness.
My Complete Playlist Of The Best Christian Christmas Songs
This playlist contains 100 songs from traditional Christmas hymns to new Christmas songs and is 6 hours and 49 minutes long, so you'll have plenty of Christmas music to listen to this holiday season. It includes both traditional favorite Christmas songs as well as contemporary Christmas songs by your favorite Christian artists and features a wide variety of Christmas worship songs such as We Three Kings and Bleak Midwinter.
Songs Included:
Silent Night by Frank Sinatra
Mary, Did You Know? by Pentatonix
Light Of The World by Lauren Daigle
Joy To The World by Faith Hill
Do You Hear What I Hear? by KING & COUNTRY
What Child Is This by Carrie Underwood
Angels We Have Heard On High by Josh Turner
What A Glorious Night by Sidewalk Prophets
Hosanna by Hillsong UNITED
Advent Hymn by Christy Nockels
The Manger by Anne Wilson & Josh Turner
For Unto Us A Child Is Born by BeBe & CeCe Winans
Come Thou Long Expected Jesus by Laura Story
This Is Love by Paul Baloche
We Wish You A Merry Christmas by Phil Wickham
I Heard The Bells On Christmas Day by Casting Crowns
O Little Town Of Bethlehem by Elvis Presley
When Hope Came Down by Kari Jobe
How Many Kings by Downhere
Hope Was Born This Night by Sidewalk Prophets
Away In A Manger by Casting Crowns
O Holy Night by Pentatonix
It Came Upon A Midnight Clear by Johnny Cash
Born Is The King by Hillsong Worship
Hark! The Herald Angels Sing by Amy Grant
Glory Let There Be Peace by Matt Maher
The First Noel by Pentatonix
Hymn Of Joy by Chris Tomlin
Christmas Offering by Paul Baloche
Go Tell It On The Mountain by KING & COUNTRY and Gabby Barrett
Born On That Day by Matt Maher
Ring The Bells by Travis Cottrell
O Come, O Come Emmanuel by KING & COUNTRY
Little Drummer Boy by Pentatonix
Newborn King by Paul Baloche
A Christmas Alleluia by Chris Tomlin
All Glory Be To Christ by Kings Kaleidoscope
Come And Adore by LIFE Worship
Heaven Everywhere by Francesca Battistelli
In The Bleak Midwinter by Jamie Cullum
We Three Kings by Dolly Parton
Mary's Boy Child by Harry Belafonte
What Love, My God by CityAlight
Your Name by Paul Baloche
Christmas Day by Chris Tomlin and We The Kingdom
Heaven Has Come To Us by Sovereign Grace Music
Amazing Grace by Jamie Cullum and The Vernon Spring
What Love Is This by Kari Jobe
O Come All Ye Faithful by Alan Jackson
Come Adore The Humble by Matt Boswell and Matt Papa
Winter Snow by Chris Tomlin
This Is Christmas by Tasha Layton
Love Came Down by Kim Walker-Smith
It's Christmas by Jamie Cullum
For All The World by Phillips, Craig & Dean
The Wonder Of Christmas by Love & The Outcome
This Is The Christ by Calee Reed
Here Comes Heaven by Elevation Worship
Breath Of Heaven (Mary's Song) by Amy Grant
Wrap This One Up by Christy Nockels
God Rest Ye Merry Gentlemen by Pentatonix
Hosanna by Paul Baloche
Here I Am To Worship by Chris Tomlin
His Name Shall Be by Matt Redman
Angels From The Realms Of Glory by Paul Baloche
God With Us by All Sons & Daughters
He Shall Reign Forevermore by Chris Tomlin
Waiting Here For You by Christy Nockels
Be Born In Me by Francesca Battistelli
He Has Come For Me by Meredith Andrews
Mercy In A Manger by Evan Craft
Jesus What A Beautiful Name by Hillsong Worship
Love Came Down by Kari Jobe
Come Thou Long Expected Jesus by Meredith Andrews
I Heard The Bells On Christmas Day by MercyMe
There's A Song In The Air by Steven Anderson
All Is Well by Michael W. Smith
Arrival by Hillsong Worship
Come Now Our King by Chris August
Sing We The Song Of Emmanuel by Matt Boswell and Matt Papa
Emmanuel by Bryan and Katie Torwalt
Adore by Chris Tomlin
Evermore by Phil Wickham
Your Praise Goes On by Crowder
Messiah by Francesca Battistelli
Today Is The Saviour's Day by Rend Collective
O Come, All You Unfaithful by Sovereign Grace Music
Unto Us by Matthew West
I Wonder As I Wander by Harry Connick, Jr.
When Love Crossed Over by Paul Baloche
Noel by Chris Tomlin
His Name Shall Be by Matt Redman
God With God by Michael W. Smith
You're Here by Francesca Battistelli
A King Like This by Chris Tomlin
The Heart Of Christmas by Matthew West
The First Christmas by Riley Clemmons
Jesus Christ Is Born by Mac Powell
Hallelujah Our King by Jordan Feliz
How to Find Your Own Best Christian Christmas Songs
If you're looking for your own best Christian Christmas songs, there are a few things you can do to find them. First, start by thinking about what type of music you generally like. If you're a fan of contemporary Christian music, then look for Christmas albums by your favorite artists. If you prefer more traditional hymns, then s. V ceek out compilations of classic holiday tunes. B example:
"O Holy Night": This classic carol has been covered by popular artists from Mariah Carey to Celine Dion, but the original French version is just as beautiful.
"Do You Hear What I Hear?": This song was originally written as a protest against the Vietnam War, but its message of hope and peace is perfect for Christmas. It's been covered in a wide variety of styles by famous artists like Bing Crosby, Carrie Underwood, Johnny Mathis, and Whitney Houston.
"Little Drummer Boy": This simple song about giving the perfect gift has been covered by everyone from Bob Dylan to Pentatonix.
"Joy to the World": This traditional hymn celebrates the birth of Christ and His coming reign of peace on earth and has been covered from Nat King Cole to The Tabernacle Choir.
Another great way to find good Christian Christmas songs is to ask your friends and family for recommendations. Chances are, they have some favorite holiday tunes that they'd be happy to share with you. Additionally, there are plenty of websites and online forums dedicated to Christmas music, so doing a little research can go a long way in helping you find the perfect songs for your holiday playlist.
Finally, don't forget that YouTube can be a great resource for finding new and exciting Christmas music. Simply search for "Christian Christmas songs" and see what comes up. You may be surprised at how many great options are out there waiting to be discovered.
Don't Forget To Save This Article On Pinterest ⤵︎